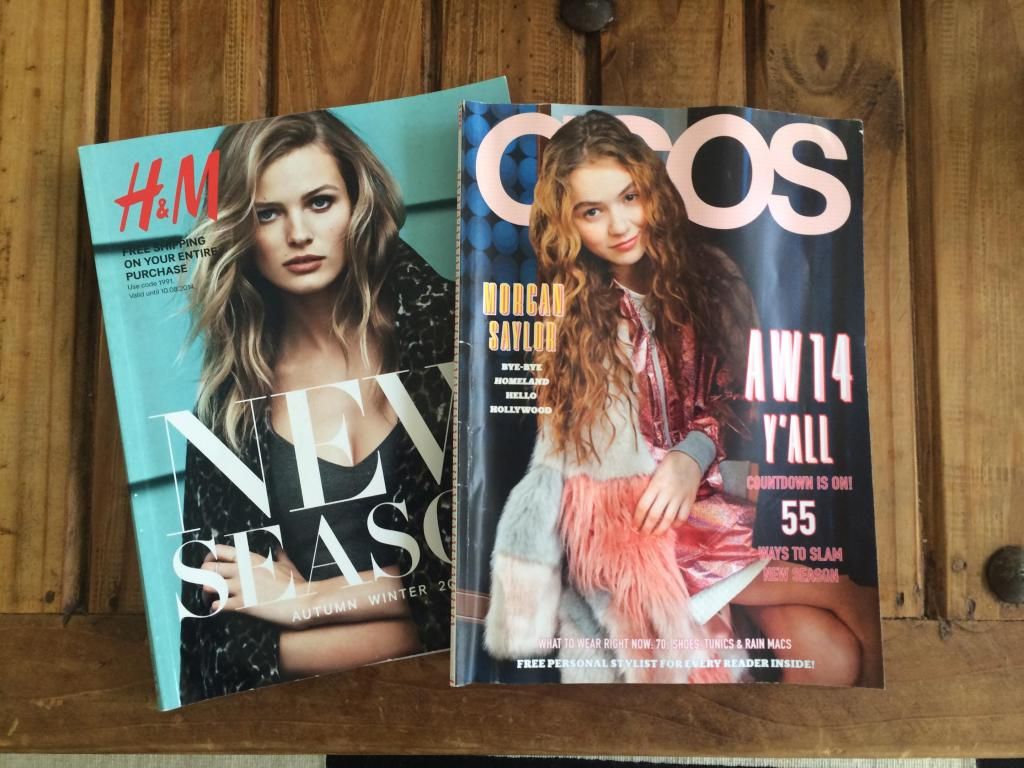 Last week I ordered some bits from H&M home for the new flat, and when receiving my package inside was a new season catalogue, another great way to entice me in to spending more of my money. There is something so enjoyable about flipping through a magazine or catalogue and building an imaginary basket of things you want in your head, most of which you will never buy but still a girl can dream aye? As I was flicking through the pages I stacked up a large amount of things that I would love to have for Autumn, gorgeous boots, sweaters, shirts, leather jackets. Bummer for me that most if not all sadly wouldn't fit me. Don't worry this isn't what this post is about, having things not avaalible in my size is something that I am used to, trust me. That said the fashion industry has come on leaps and bounds to providing fashionable trend led plus size clothing lines. Some of my favourites being New Look Inspire, Boohoo Plus, Simply Be and ASOS Curve. My question is why don't some of these brands choose to promote these lines more?
In the H&M catalogue full of 200+ pages of items only four were dedicated to their plus size range, as small as four pages is, this is still good to see, the pages included editorial images on models which I think is always helpful providing visual inspiration is key for me. Personally I'm not the biggest fan in general of the range, in my opinion the collections have always been a little dated, it's mostly made up of basic clothing items such as jeans, tees and skirts but little on great print, different shapes or trend led fashion pieces. That said I really do like the printed logo sweater which you can see below. As for in store displays I feel very little effort is put on visual merchandise, the Regent street store being prime example of this. The last time I visited, the plus size section was on the lower ground and felt hidden away in a corner, nothing really caught my attention because, it all kind of blended together. I wasn't inspired or drawn to anything which is really kind of rubbish and often leaves you feeling rather deflated when surrounded by great items on other floors that are bright, and innovative.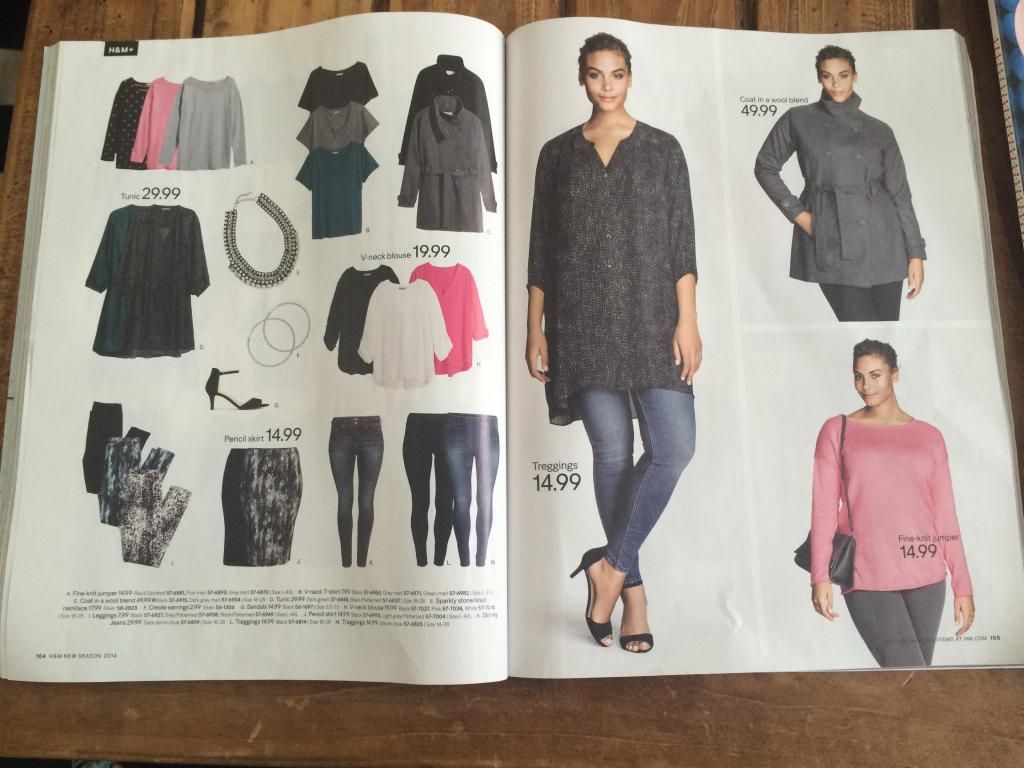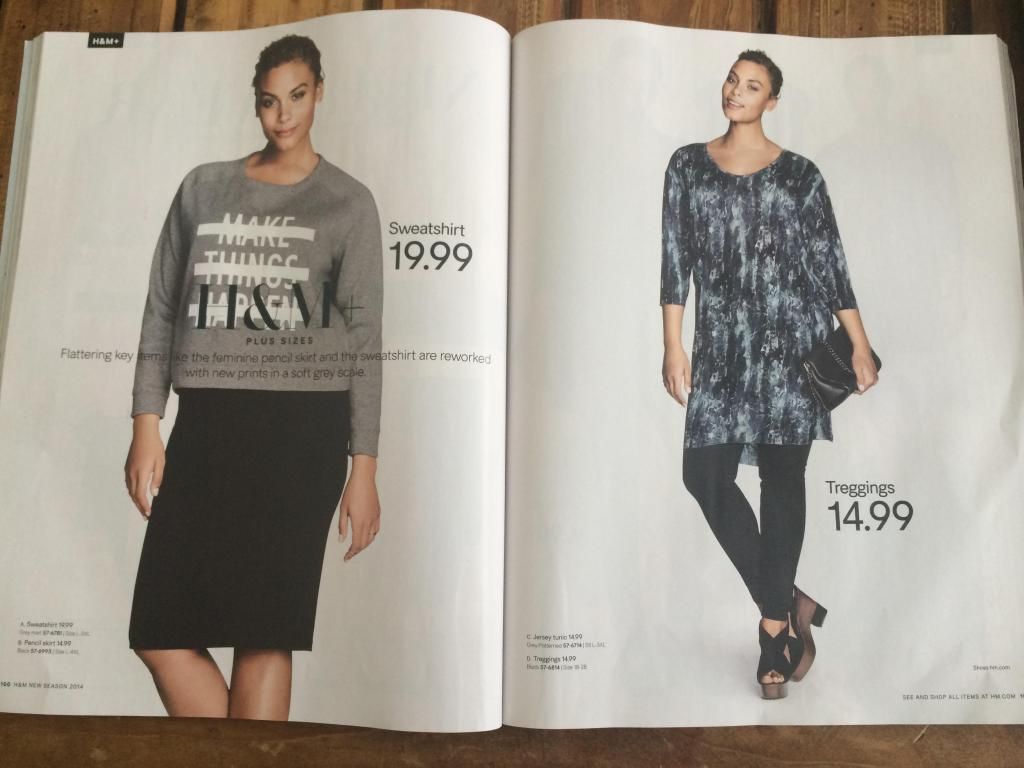 Which brings me swiftly on to ASOS curve, a brand whose items
are
innovative, bright and inspiring. Curve is perhaps my favourite plus size brand because they sell trend led items, great prints on different styles from t-shirt dresses, playsuit, dungarees all the way to body cons. They are doing it right and I would happily give them my money. ASOS also happens to send out a monthly magazine, it is my favourite thing to read on my way to work full of great editorials, features of beauty, accessories items, great articles featuring bloggers from all across the world and really great eye catching lay outs. It is an all round epic magazine, sadly however there are virtually no curve items featured. Just this months mag only two pages of the whole magazine included tiny features from the curve range. For me this is disappointing, I am not expecting ASOS to feature pages and pages of curve, heck even half a page would do but it would be nice to have something in there to offer inspiration for outfits in the same manner in which straight sized clothing is. ASOS are missing out on a huge part of their demographic, with many women being over 16+ and over who want the same fashion options as their slimmer friends. It seems a waste to have make all these amazing clothes for plus size women then to not promote it using a key tool such as a magazine that reaches over
449,971
readers.
On the opposing side there is an on going argument that buyers for brands simply aren't selling the plus size clothing as much as straight sized lines. Sarah Conley a blogger and retail consultant also spoke frankly in
this article from Fashionista
about the fact that even though many cry out for more relatable, bigger sized models to be used by brands, customer trends show that women still aren't buying the clothes. Some really great points were raised throughout this article about the issues running through the plus size fashion industry and whether or not plus size women play a role in the problems.
When writing this, I was nervous about posting, I was questioning whether I was overreacting. Should brands have a responsibility to promote plus size ranges? Or as a friend pointed out, are they given the same air time as other ranges such as 'Tall' and 'Petite' and is that just fair game? Do you think that Fashionista's article, to an extent explains why brands simply aren't investing in their plus size ranges? What are your thoughts? Would you like to see plus size ranges featured more by brands, in main stream print magazines and online features or do you think that brands don't have a responsibility to cater to everyone it sells to?