Well this is it, this is the last of my South East Asia travelling posts and I am legit, very sad about it. Writing to you about my trip has allowed me to relive every moment of it, to get that warm happy feeling all over again every time I'm flicking through pictures or telling you the best place to eat or get a banging massage. Travelling is my second true love and to get to travel with my first true love (Dan obvs) was truly a dream come true. This last post is all about Bangkok and the last few special days we spend exploring the wild and enigmatic city at the heart of Thailand. Was it my favorite place? No. But there still is a lot to love about it.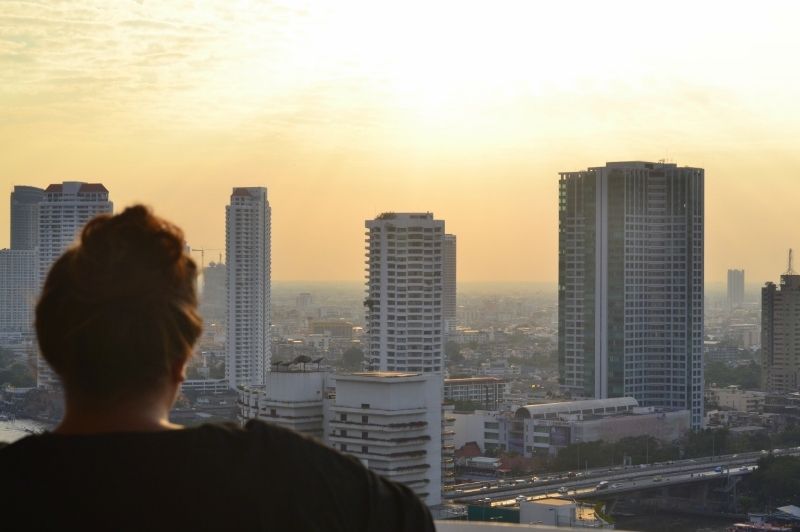 ACCOMMODATION
After 4 weeks of travelling and a very very long journey overland from Cambodia we arrived into our little hostel type accommodation at the Mystic Place BKK very close to Chatuchak market. This was another last minute booking on Agoda, it looked kinda cool and the reviews weren't too bad so we decided to go for it. On arrival we loved how weird and kitsch the place was full of knick knacks and very nice breakfast seating area and the breakfast was actually top notch with really nice bread, eggs and bacon all washed down with fresh juice every morning.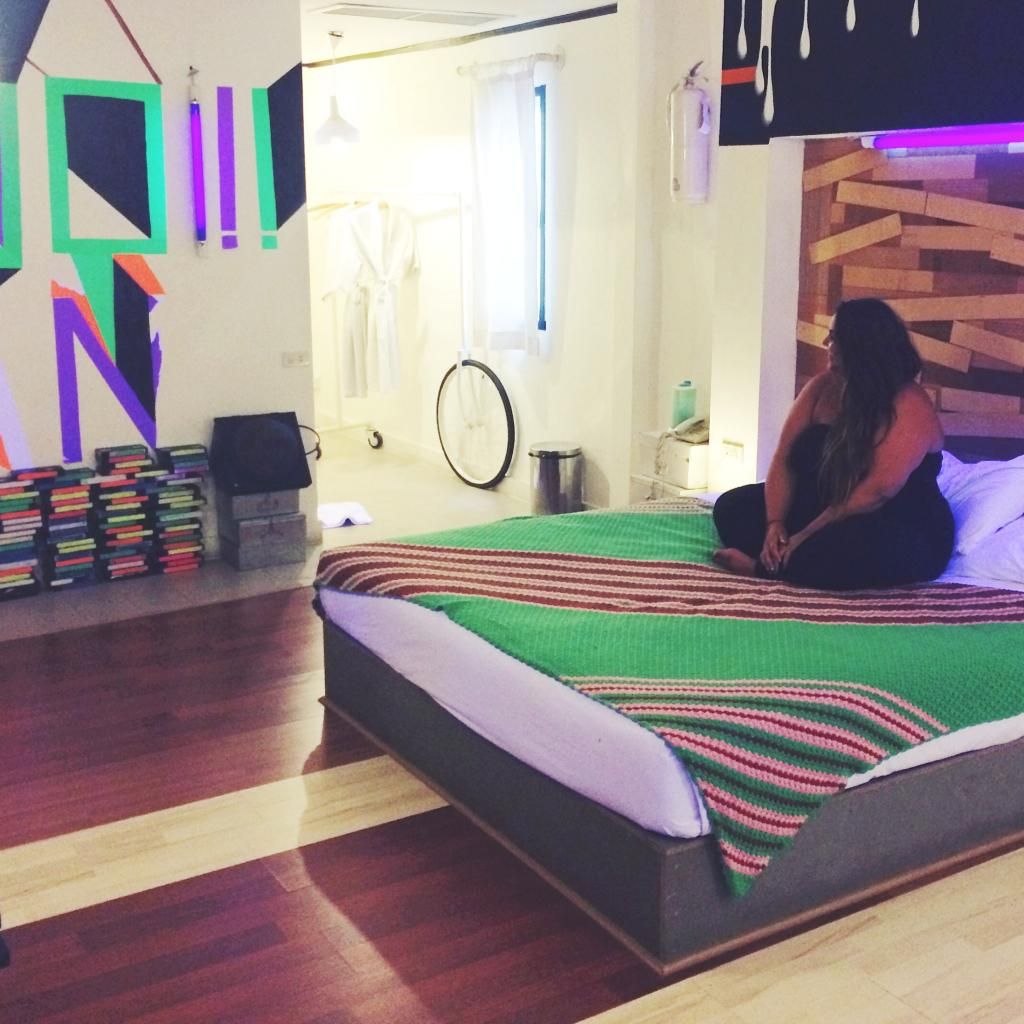 The area where Mystic Place is located is very local, there wasn't a great deal to do in the evenings and there weren't many places to eat dinner but in terms of location to the markets it was great. One thing to note whilst this place is quirky it wasn't exactly the most well kept hotel, lots of the walls were chipped, the bathroom could have done with a revamp and it was also just off a fairly noisy main road. If those kind of things don't bother you then this place would suit you just fine.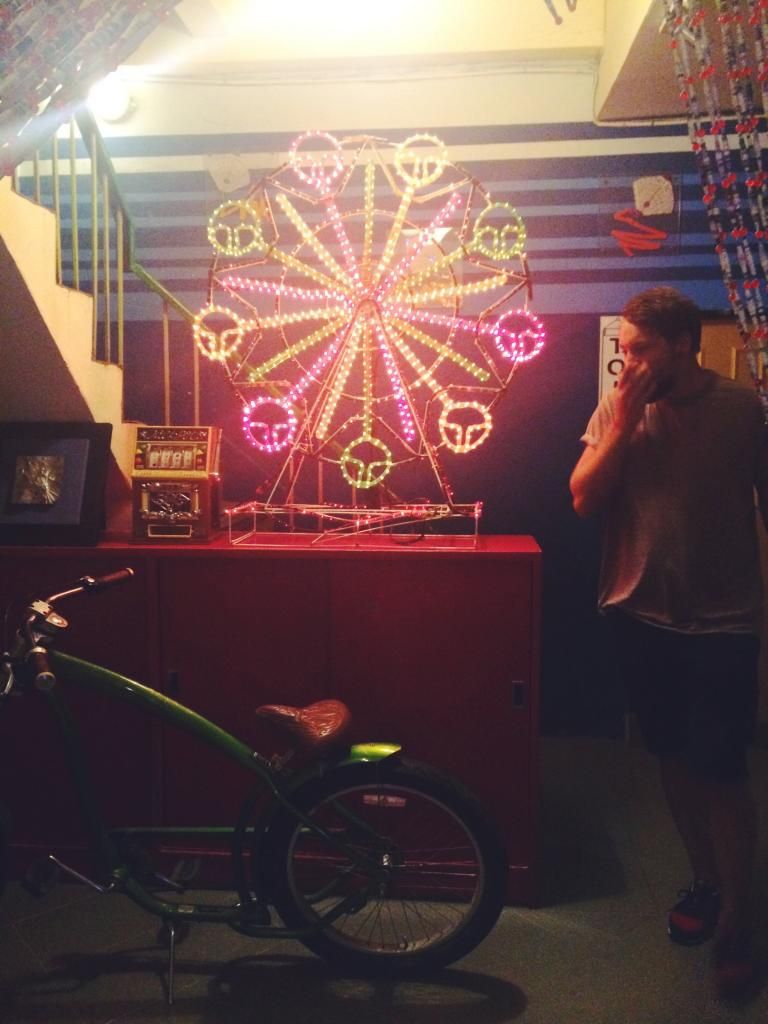 After two days in the above hotel we decided we would treat ourselves to a final two nights in something luxury, we had pretty much stayed in budget to mid range accommodation during our whole stay. We asked on Instagram and so many of you suggested the
Lebua State Hotel
which was where Hangover 2 was filmed. We decided to go for it and splash out on the 5* Hotel which to be honest was a total steal considering how much that same standard of hotel would cost you in London. Walking into the hotel got me all giddy at the prospect of fresh, soft, white towels and a luxury long soak in the bath followed by a sleep in the comfiest bed I have ever slept in.
The hotel is perhaps most famous for its
Sky Bar
which has the highest viewing point over looking all of Bangkok. We would have loved to have gone for dinner at their famous 'Breeze restaurant which is voted one of the best restaurants in the world however it just wasn't in our budget. Instead we toasted the end of our engagement with a delicious, albeit expensive cocktail overlooking the night view then headed out for our final Thai meal. Our stay included breakfast and my god was it a good breakfast. I had honestly never seen anything like it before! There was so much to choose from, I'm talking Dim sum, to sushi, salads to hot grill and full English. There was a dedicated area to cooking fresh bread and pastries in a wood fire oven and an egg station for all the eggs a gal could ever desire. The breakfast alone made the stay worth it especially for Dan who basically ate all of the pastries ever in existence.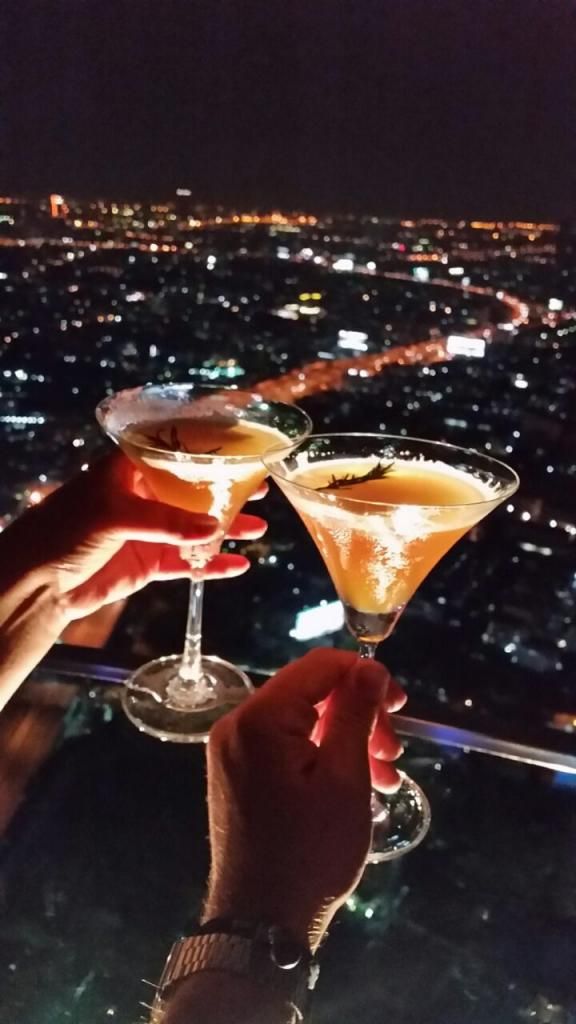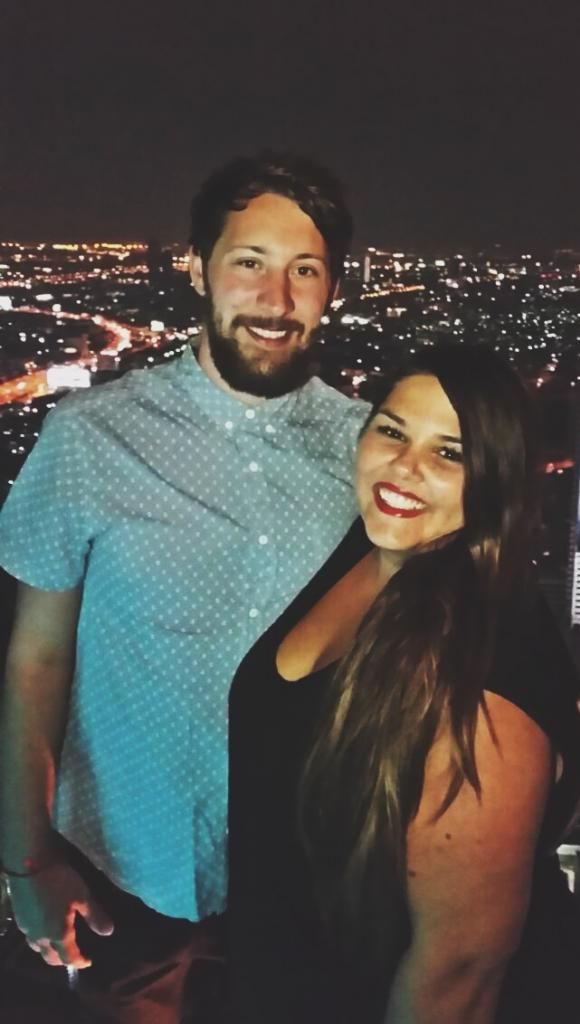 Things to do…
Chatuchak Market in my opinion is worth a visit in Bangkok, its one of South East Asia biggest markets and you can pretty much buy anything there, this however does include live animals and pets such as dogs and kittens. That was the part I wasn't keen on at all, there were so many people selling fish which were just left to swim in the tiniest amount of water in plastic bags and it really upset me to see so if you are sensitive this might The market sold lots of cheap clothes, gifts and home ware products which you could also ship home. There was also food and juice stalls everywhere. My one tip is do not be idiots like Dan and I and go to this market hungover. We were actually dying walking around in the humid hot air surrounded but hundreds of people, dying for there next bargain trust me you need your strength for this kind of market. My advise about timings would be to go early, it's much more pleasant earlier in the day as soon as 12am hits it gets ram packed and very overcrowded.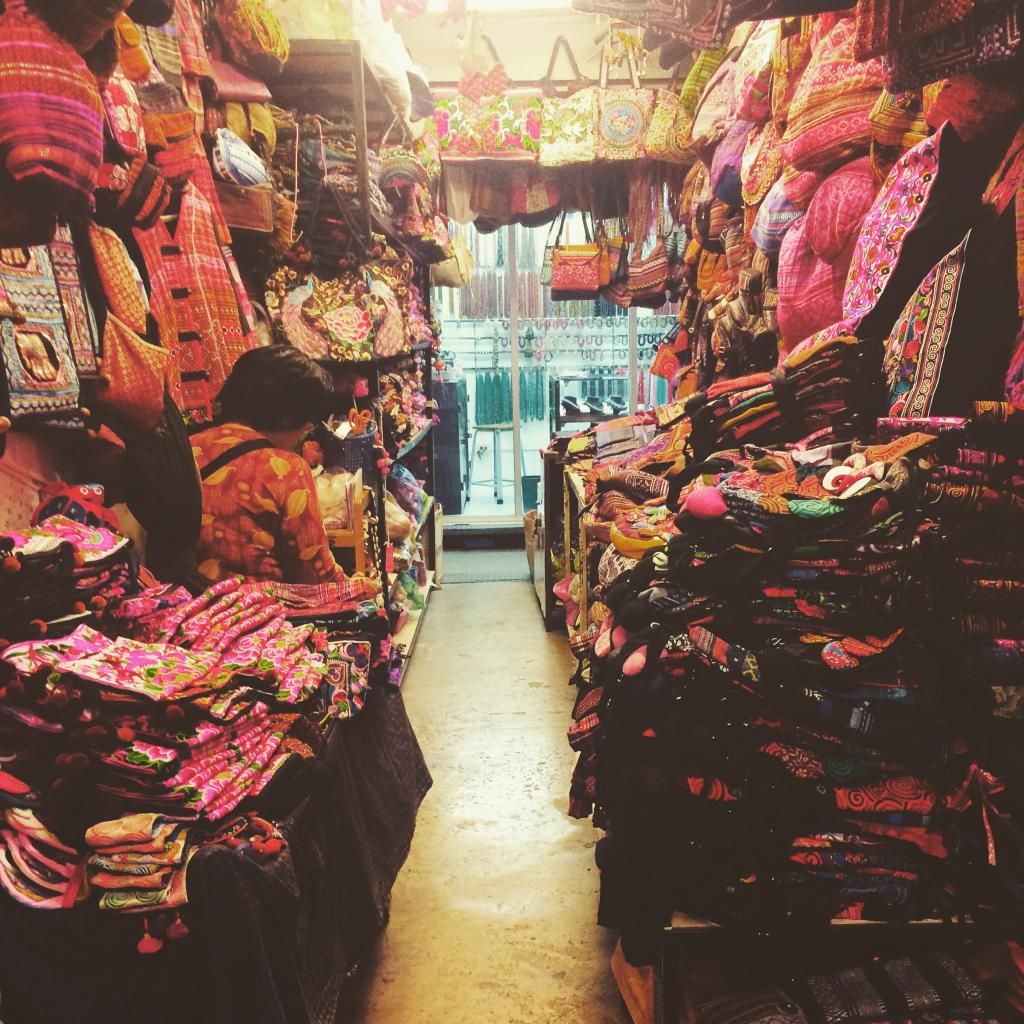 Wat Arun
is a famous Buddhist Temple on the west side of the Chao River, we were kindly taken here by a lovely friend of mine Jan, who actually was a follower of mine on Instagram, during my travels she reached out and we arranged to meet for her to show us around her city of Bangkok. As said above Bangkok wasn't my favorite please however the day we spent with Jan showing us around was incredible, it actually put the city in a completely different light. All three of us climbed the top of Wat Arun which I might advise is kinda, really scary if you aren't a fan of heights. We took a river boat across and payed a small entrance fee, although it was a cloudy day we still got a good look at the view of the city from the top.
Visit a Mall Bangkok is famous for its high rise building and its busy crazy lifestyle. It is also pretty famous for its malls. They are huge and you can get pretty much anything from inside of them. We popped into the Siam Paragon which was insane, I am sure it would take all day to get around it. There were all kinds of shops and restaurants, we stopped off for an ice cream sundae with our lovely friend Jan. Shopping isn't personally my thing, I enjoy markets much more, perhaps because I am quite spoilt with living in a city like London. That said, if shopping is your thing check out Bankok.com best 10 malls to visit when in Bangkok.
Chinatown
is definitely worth a visit when in Bangkok, although we only passed through I was engrossed in the magic and busyness, its also apparently super active in the evenings where you can go and try all the Thai and Chinese street food. Some say that you need to be strong of stomach to try the very local Thai and Chinese dishes, so if you are a foodie that likes to try new things this might just be the spot for you. I found this blog by '
Your little black book
' to be a great reference for all things Chinatown related.
Whilst Bangkok wasn't really my cup of tea it still holds a very special place in my heart,
it was the perfect end to the most incredible to our 5 weeks travelling. For me, what was most special was that we were able to meet a Thai reader of my blog and be taken around the city to get a real personlised experience. In fact Jan (the reader) made our holiday more that she could actually know, to meet someone who I can now call a friend who actually took the time to reach out to me from following my blog is totally crazy. The fact that my Instagram and blog reaches people across the world is just beyond my understanding. Our five weeks of travelling lit a flame inside of both Dan and I and reminded us of how much we love adventure and travel and exploring new food and places and people. Travel will continue to be part of our lives and this blog and I hope you will enjoy sharing this with us. My South East Asia adventure may be over but we are now planning our next which is to get married and boy, is that going to be an exciting one. Bring on the Honeymoon!